Friedrich Kimmich's Knights Cross Formal Award Document
Hauptmann D. L. Friedrich Kimmich, Army (Heer), Major of the Landwehr, Leader of the II./Grenadier-Regiment 554 (Major d. Landwehr Fhr. II./G. R. 554 ) was awarded the Knight's Cross of the Iron Cross on the 11th of December 1942 by General der Infanterie Kurt von der Chevallerie, to recognize extreme battlefield bravery or successful military leadership. Kimmich's Knights Cross was awarded in the heat of battle in Stalingrad. The award document (Mappen) is constructed out of a covered red Saffian (Maroquin) leather board base. The obverse features a slightly off centered pressed gold National Emblem, which features a closed winged eagle clutching a wreathed mobile swastika its talons. The top, bottom and tail edges are all manually lined in vertical gold stripes. The interior casing is covered in two off white parchment inserts that are each boarded in the red leather and three thin gold strips. Centered on the lower edge of the back inside cover is the creator's name: "Frieda Thiersch", in gold. The interior spine has a red string that holds the parchment award document. The first page is blank. The second page displays, from top to bottom, in brown-black ink; a National Eagle (with outstretched wings clutching a wreathed mobile swastika in its talons), "IM NAMEN" / "DES DEUTSCHEN VOLKES" / "DEM HAUPTMANN D.L." / "FRIEDRICH KIMMICH"(in gold) / "DAS RITTERKREUZ" / a Knights Cross / "FUHRERHAUPTQUARTIER" / "DEN 11. DEZEMBER 1942" / "DER FUHRER" / "UND OBERSTE BEFEHLSHABER" / "DER WEHRMACHT" / ink facsimile signature of Adolf Hitler (In the name of the German People the Hauptmann D.L. (rank) Friedrich Kimmich (name) the Knights Cross The Leadership Headquarters 11th December 1942 the Leader and the Supreme Committee of the Wehrmacht). The exterior shows minor age toning, a few scratches to the reverse and typical age to the spine and corners. The interior parchment shows age toning and the slightest gold peal from Kimmich's name. Included is a non-period parchment paper to further protect the gold lettering of Kimmich's name. Overall it is in excellent condition with beautiful detail to the gold eagle, wonderful display of black-brown ink and 98%+ leather coverage! The award document measures 17 5/8 inches tall by 14 ¼ inches wide. To the bottom are some great photos of him along with a few of him receiving the award in the middle of a blinding snow storm! A truly wonderful piece of history for the serious collector!
10.22.18 a few more bits and bob's here to be included; An original note from a General Graf von Rotkirch and Trach congratulating Kimmich, A signed photo and finally a COA from Detlev.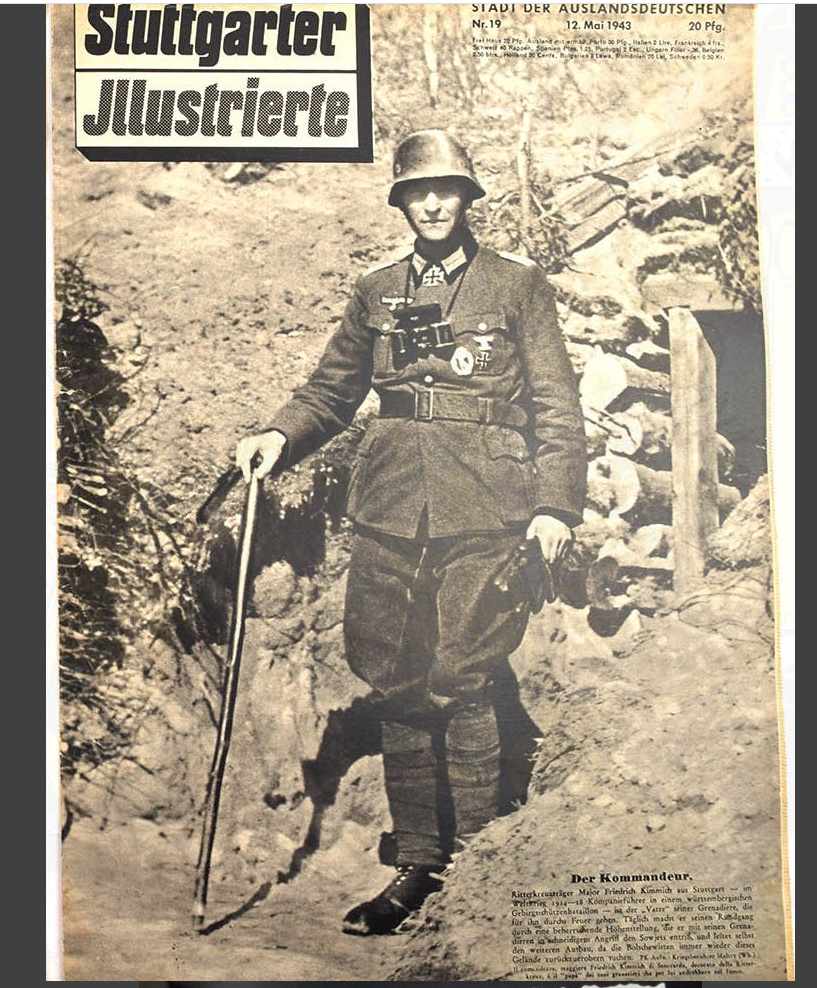 If you would like to purchase this item, please Create an Account, add it to Your Cart and Checkout.
We would recommend that you read our Policies page before making a purchase.