About Us
Lakesidetrader
Lakesidetrader is the trusted source for authentic German WWII Third Reich Militaria.
We strive to be your filter, sorting through all kinds of items daily to offer you only authentic militaria. When dealing with Lakesidetrader, we want you to rest easy knowing that what you've purchased is completely as described, photographed and is absolutely authentic.
We have over 25 years of combined experience in this area of collecting. We've sold hundreds of thousands of items. We've owned and handled multi-millions of dollars worth of militaria. We list many items daily and have pieces starting from $1.00 and have dealt in items all the way up to $250,000. If you're a customer of ours, by now I assume you know this. We do this full-time and we take it seriously. It's how we provide for our families. The experience and knowledge we've gained over the years has made Lakersidetrader a first class, world leading expert in authentic German WWII Third Reich Militaria. We are not Nazis, Nazi sympathizers, skin-heads or racists. We love history and we collect period.
We do not, and will not listen to, accept or tolerate pro-Nazi statements or views.
Lakesidetrader Inc. officially began in 2003, though Paul started buying and selling in 1999 and has been involved the German collecting community since 1990.
The Customer Service Team
| | |
| --- | --- |
| | My name is Paul. I have been an avid collector since 1990 and a history nut my whole life. I have formal training in Business Administration and have worked in Purchasing and Contract Administration for major corporations including: Weston Foods Group and General Electric Motors. I spent 7 years of my life working in a large zinc die casting corporation fulfilling various roles as Production Coordinator, Systems Development Manager and Tool Room Foreman. I began Lakesidetrader in 1999 and since then have handled the majority of the business operations. A significant portion of my job consists of customer contact, purchasing, authentication, sales, website management, marketing and just about everything else at Lakesidetrader (oh, and I also take out the garbage too!). Throughout this time, I have; published several articles on how to collect daggers in different collecting magazines, I have created videos on what to look for when collecting daggers and I have been featured in newspapers and on TV News talking to Veterans and their families about how to sell their souvenirs. I'm where the buck stops around here and if you are in need of some assistance just ask for me and I would be happy to help you! |
| | |
| --- | --- |
| | Hello everyone! My name is Nathan Paul, and I've been with Lakesidetrader for many years now. I received my Business Administration Degree and Web Development Diploma at Trent University and Fleming College. I have a passion for e-commerce, the web and business in general, which makes this position ideal. I have been collecting military antiques since 2004 and have accumulated a small collection of pieces for myself. Here at Lakesidetrader I am responsible for the photography, descriptions, authentication, website design and just about any technical aspects of Lakesidetrader. I have high hopes for my future here and am optimistic about making some meaningful changes here at Lakesidetrader and in this hobby! |
| | |
| --- | --- |
| | Hi, my name is Christine. I have been married to Paul for 26 years now. I have been helping at Lakesidetrader since it was founded in 1999. By 2008, I had to leave my position as an office manager in a doctor's office to fill Lakesidetraders need for a full-time employee. I have been interested in this hobby for some time. My father, an RAF Bombardier, was a survivor of one of the WWII POW Camps, Stalag VIIIB. He spent 2 1/2 years in occupied Poland and was involved in "A death march" as the Germans retreated from the Russians in '44/'45. He has told us many stories of his experience both during his flights as well as life in the camp. He is one of Paul's greatest supporters in the business! At Lakesidetrader I am responsible for packaging, shipping, certificates of authenticity, accounting and all aspects of administration. |
Why Should You Buy From Lakesidetrader?
Integrity Accuracy Knowledge and Experience Guarantee Selection Photography and Descriptions Personalized Service Forums and Social Media Show Schedule Your Help Collecting Green Incentive Teaching History & Rememberance Day Policies Privacy Policy Sell my Items
Integrity
We have a proven record of internet sales with thousands and thousands of transactions that have been properly processed through our site. Please visit our Feedback page to see what people are saying. We always tell to people, before making a purchase search out the business you are thinking about buying from on google! See what others have to say about them. We would encourage you to do this with us too! We am sure you will be well pleased. If you are a forum member ask others on the forums. Many people know us well and will vouch for us. We maintain the high standards on Ebay with its Powerseller Program. Lakesidetrader has 1900+ positive Ebay feedbacks over the many years under the handle Lakesidetrader. We are an International Paypal verified seller maintaining Paypals required standards, with the highest rating they have. All these people can't be wrong!
Accuracy
Years ago when I started collecting a fellow collector told me, "You will always find something that the dealer never told you. It may be small but there's always something... See, they figure for some small little thing you're not going to return it...". "But why don't they just tell you the whole story?" I protested. "Cause if they told you absolutely everything, the piece would sound terrible and they would never sell anything!" he replied. Well that's not our policy. We attempt to tell you the "whole story". Sure, this may make some pieces sound less desirable but we would rather you have lower expectations of the piece, then when it arrives you are happier than you expected! Our ratings are conservative. We never want you to open a package and find a nasty surprise. We're not in the business of returns. We're here to exceed your expectations! We believe that when you treat people well and give them more than they expect they will be back. That's how you build a solid business!
Knowledge and Experience
We have been serving the collector market for many years now. I have been studying history and militaria for as long as I remember. When you read our listings we include the odd historic reference and links so you can learn while you collect. We know few do this, but when the history is understood, it makes the items come alive! When other kids were reading Dick and Jane I was looking at pictures of D-day! Hard to explain but there is something in the heart of almost every man that loves this stuff! We love warriors, battle, bravery and victory! It's why guys like shoot 'em up games. Can't explain it, it's just a guy thing. I remember the day I held my first SA dagger. Wow! Once I started collecting militaria I knew I'd found my passion! We don't do this part-time, a few hours a day. We do this full time. We never claim to be perfect or infallible however, there is no substitute for the experience we've acquired handling and serving our customers with multi-millions of dollars worth of militaria. I am a long time member of the Ohio Valley Military Society, (OVMS). I have also gone through the time and expense to become a MAX/GDC Certified Dealer. If I don't know it, I know someone who does. Every year hundreds of daggers, medals and other authentic militaria pass through my hands. I have been published in several trade magazines, most recently in Military Trader with the latest in my series titled, "Collecting Hitler Youth Knives for Beginners". I have also been featured on regional TV News and in several newspapers explaining to Veteran's families how to safely and fairly sell their military souvenirs. Why not our experience serve you too?
Guarantee
We stand behind what we say and what we sell. We are honest and describe our items to the best of our ability and knowledge. We are human and as such are not infallible. If you see an error in any of our pieces please let us know. We strive to correctly describe everything. All of our items come with a lifetime warranty as to authenticity. If you are not satisfied with your purchase for any reason you may return it for a refund, (less all transaction fees). This return policy is not accepted on any item that has been cleaned, disassembled or messed with in any way. After 5 days sales are final. We say this and in our experience people are delighted when they get their items. Over the many years we've consistently have had a return rate of less than 0.1%. We are working to improve on this as well!
Selection
We offer multiple items daily! Check out our recently added items section! That just what we've listed in the past two weeks!
We are often asked "Where do you find all this stuff?". Well, we've been involved in the collecting community for many years now and have strived to maintain a respectable and honorable reputation that has served us well. A large percentage of our inventory comes from collectors. It's tough to find items direct from veterans or their families, though my web presence regularly brings people our way. We advertise internationally as well as locally and in key forums, publications and media sources. Over the years we've also developed a network of "pickers" from all over the world who we have established a great relationship with. Please keep in mind, many items never even make it on to the site and others are in queue to be listed. If you do not see what you are looking for drop us an email. We may have it on hand. If it's not here, we can often direct you to where you may find it.
Photography and Descriptions
We have always believed that our customers are entitled to an educated description and the best quality photos that we can offer. We want you making an informed buying decision so we display all known issues or problems with each item. Yes, this takes more time but in the long run it provides you with a confident buying experience. The last thing we want is for you to get an item and find that it is not exactly what you expected. We want you happy and we want you coming back. You are our customers and our suppliers!
It's simply not reasonable to expect you to part with your hard-earned dollars with small/poor quality photos and a minimal description. Compare our listings with that of our competitors and you can tell the difference!
Personalized Service
Every year we provide consulting services and procure many high end items for select clients. This is a personalized service that is tailored to the collectors specific needs. If you have a specific item in mind, that is not on our website, let us know and we will do our best to help you get it! Please, visit our Gallery or the Premium Items section as these are some items recently sourced. Let us know how we can help serve you better?
Forums and Social Media
We stay active on several Forums and Social Media sources.
Show Schedule
Much of this hobby has gone on-line over the past 30+ years, however Military Shows still provide excellent opportunities for people to network and see some of the finest people and artifacts in the hobby. We go to most of the 'local' shows including; The Toronto Military Shows at the General Sikorski Hall in Oshawa and to the Etobicoke Olympium Show in Etobicoke. There are also great shows in the US including the Show of Shows in Louisville, KY and the MAX show in Monroeville, PA.
Your Help
This site is dedicated to you, the collector. Your comments and knowledge are valued. The only way we get better is through new ideas and advice. Many of the improvements over the past years have been based on what you've suggested. Please, if you have any questions, concerns or know how we can serve you better, Contact Us we would be happy to hear from you!
Collecting
"So who buys this stuff and why?" We've been asked this question many times over the years. We answer by explaining that 99% of this stuff was liberated from Europe by returning Vet's. These are the guys who fought for your freedom. Veterans did not bring war trophies home to glorify the 3rd Reich. Far from it, they were returned home as a reminders of a hard won victory over Fascism. These guys are proud of what they did and these items are tangible evidence of that. They serve as reminders for us all. Our customers are historians, museums, educators and people just like you: doctors, lawyers and bricklayers. People from every walk of life with a passion for history and an appreciation for old world quality and craftsmanship. They remember what our Veterans did for us. These folks keep that memory alive.
Green Incentive
The majority of dagger and sword shipments go out in high quality reusable zippered padded cases. These are designed for protecting daggers in transit and providing safe long term storage. This has eliminated 90% of the one-use packing materials we previously used. We recycle packing material from incoming shipments. What does not get used for repackaging gets recycled locally. In a small way this keeps both our costs low and protects our planet!
Teaching History & Rememberance Day
This hobby has provided a great living for us. As one of the few who truly can say they are living their passion, we are thankful to all Veterans who sacrificed so much for our freedom. In appreciation, we do classroom presentations educating youth about the two world wars and the brave service all soldiers gave. The kids love to see, hold and touch real items. Artifacts make history come alive! Those who remember are less likely to repeat the mistakes of the past! Below are some classroom pictures. The veteran beside me is my father-in-law WO William "Bill" Jones who flew with the Royal Air Force during the darkest days of the war and was shot down over France in 1942. Bill served two and a half years as a POW in Germany. He survived the Death March in the closing months of the war and 10 children! He was decorated veteran, my friend and a big supporter in the business. If you are reading this page considering us doing an in-class presentation email me for details. My family all help out. This is a family affair!
Bill Passed away March 14, 2012.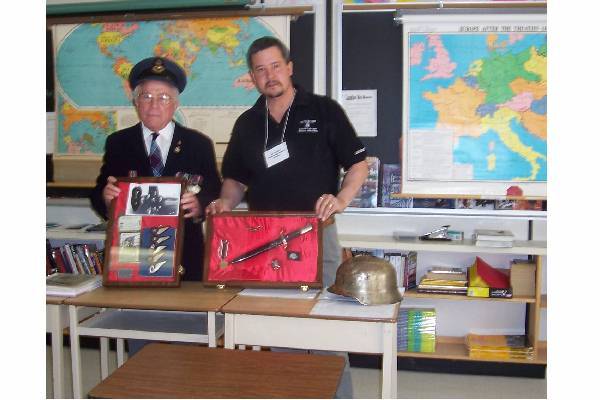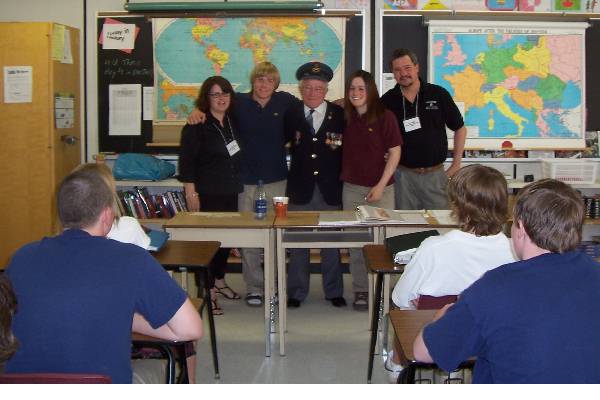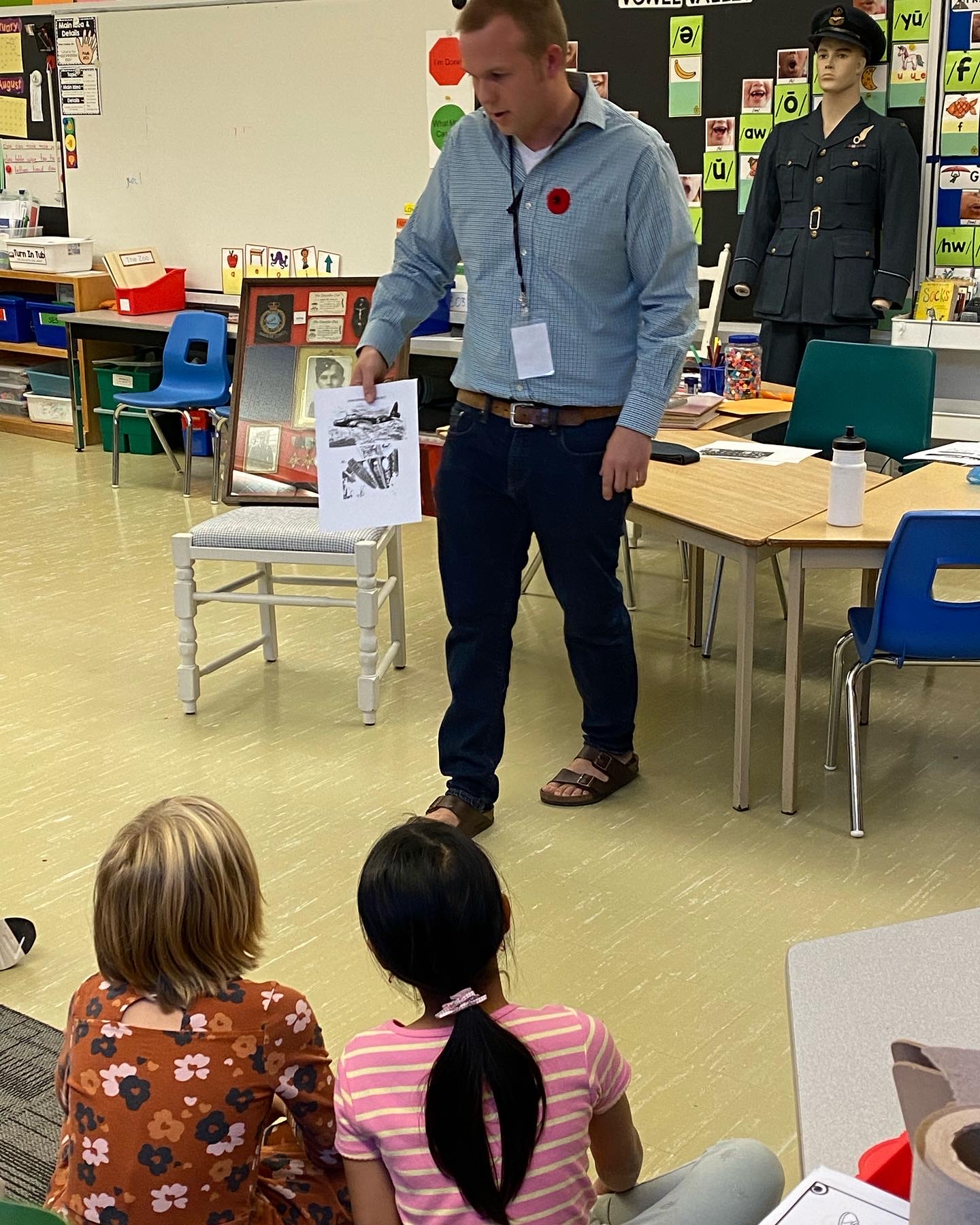 Accreditations