Luftwaffe 18pc Document Grouping to DKiG Winner
Luftwaffe Unteroffizier Ernst Gutzeit (Stuka Gunner) flew with I. Gruppe, Sturzkampfgeschwader 77. Included in this grouping is:
Luftwaffe Log/Performance Book (Leistungsbuich) with 652 Stuka Attack Flights.
Two Flight Books (Flugbuch) one from 24.4.40 to 28.11.43 and the other 28.11.43 onward. The last books displays over 900 flights. Some loose pages.
Wehrmacht Patrol Duty Service Card (Streifendienst Dienstausweis) with Guzeit's photo.
DAF Membership Book (Mitgliedsbuch). 1933 to 1938.
Along with Gutzeit's Award Documents:
Luftwaffe Bomber Clasp (Frontflugspange für Kampfflieger) in Bronze (18.10.41), in Silver (10.11.41), in Gold (11.5.42) and with Hanger (22.7.43).
Luftwaffe Air Gunner Badge (24.2.41)
2nd Class Iron Cross (23.8.41)
1st Class Iron Cross (2.11.41)
Feild Issue Document for the German Cross in Gold dated 7.6.43. Gutzeit was awarded the DKiG on 28.4.43 which is dispolayed in his Leistungsbuch and referenced in: "Das Deutsche Kreuz 1941-1945" by Patzwall & Scherzer)
Eastern Front Medal (24.9.42)
Krim Shield (15.3.43)
Black Wound Badge (5.9.43)
Also included is a signed photo of Commander Helmut Bruck of StG 77 (Recipient of the Knight's Cross of the Iron Cross with Oak Leaves) shaking Hitler's Hands. Bruck signed Getzeit's; DKiG Feild Document, Luftwaffe Bomber Clasp with Hanger Document and his Eastern Front Document.
Gutzeit survived the war and passed away in 1992.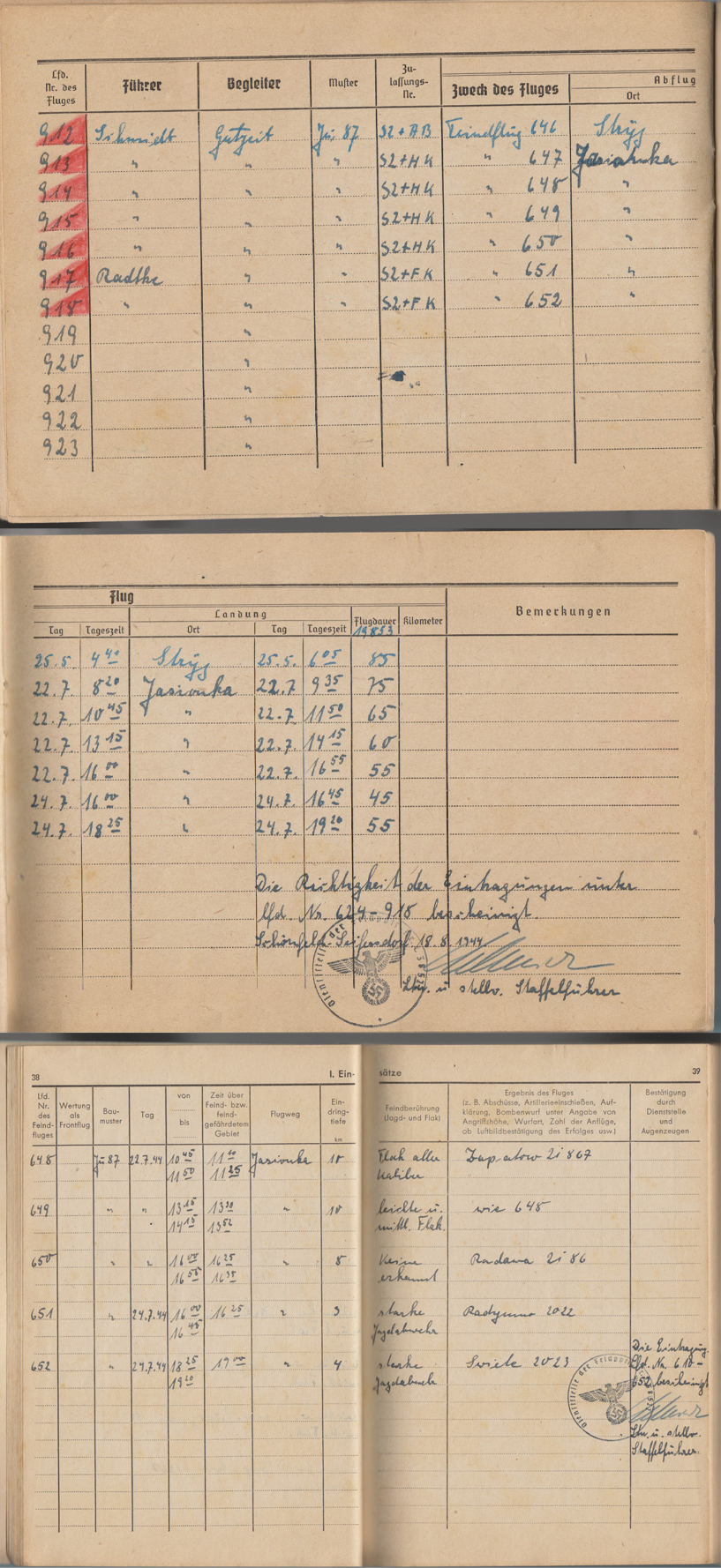 If you would like to purchase this item, please Create an Account, add it to Your Cart and Checkout.
We would recommend that you read our Policies page before making a purchase.