Partial Rohm SA Dagger by Ed. Wüsthof
Please note this item is no longer available and you were redirected to our Archives.
Another lazy man's example here! Ed. Wüsthof is actually a rare maker of Rohm's. They only made very few. The partial removal of the "Ernst Rohm" name is a back-yard job. I always prefer these to the more often seen factory ground jobs. I just picture the guys coming home from their weekly SA meeting to a bratwurst and Beck's discussing the events of the Night of the Long Knives, and complaining about why they had to remove the name from the blade. Gives a real history to these pieces! The rough blade on this one is still one to be cherished! The acid etched "In herzlicher freundshaft" inscription continues to remain intact, the name is gone. A fine compromise. The acid etched "Alles fur Deutschland" motto and "Ed. Wüsthof Solingen" maker mark still continue to look great! The fit is perfect as well! The blade rates Exc. The tip has been re-pointed by about 7mm. This, most often on Rohm daggers is because the blade was "dishonored" or broken by the original owner. Someone has since repointed it. Regardless it's part of the story. There are scratches, pitting and spotting throughout along with the odd flea bite to the edge. The steel based, heavily brown repainted scabbard has wee bumps and marks under the old lacquer paint. The solid nickel scabbard fittings have patinaed with time. The ball is banged in and four screws remain intact. The scabbard / crossguard fit is perfect and closes with a snap! The reverse of the lower crossguard is stamped "Wf" (quite correct). The crossguard / grip fits are near perfect as well! The red hardwood grip rough as well. It has a couple cracks and looks like someone used it as a hammer to the reverse leaving the wood dented. The solid nickel eagle has nice detail and has a perfect fit. The SA roundel retains 99% of its enamel and also has a perfect fit. An easy way to get a Rohm and at a fraction of what you will pay for a full inscription!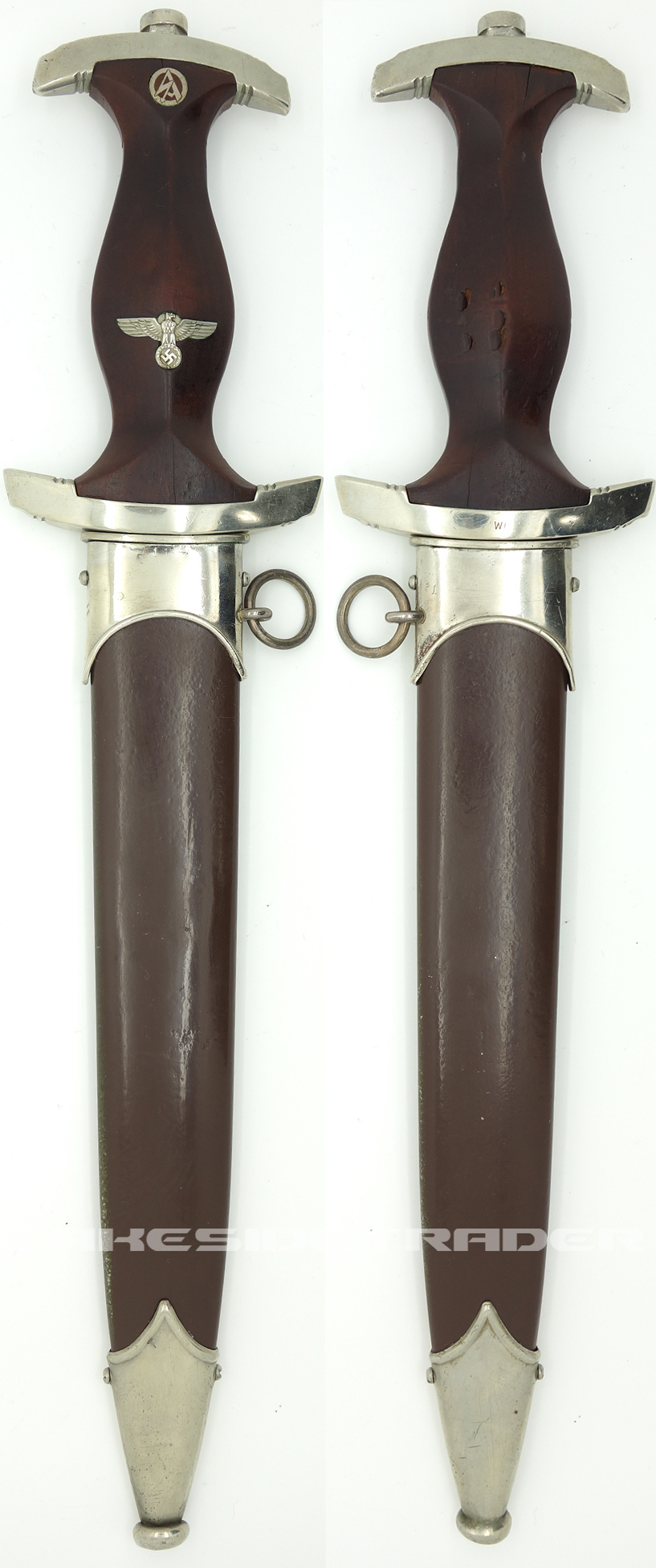 If you would like to purchase this item, please Create an Account, add it to Your Cart and Checkout.
We would recommend that you read our Policies page before making a purchase.