Ground Rohm SA Dagger by A. Wingen
Please note this item is no longer available and you were redirected to our Archives.
Here's one with a hanger! The blade on this one has age and has been cleaned. The acid etched "Alles fur Deutschland" motto and "Anton Wingen Jr Solingen" maker mark are still clearly visible. The fit is nice and tight. The Rohm inscription: "In herzlicher freundshaft, Ernst Rohm" (In Cordial Friendship Ernst Rohm) remains 2% intact. The removal of the blade inscription is a back-yard job. I always prefer these to the so often seen factory ground jobs. I just picture the guys coming home from their weekly SA meeting to a bratwurst and Beck's beer discussing the events of the Night of the Long Knives, and complaining about why they had to remove the name from the blade. The blade rates Exc. with spotting and grey throughout. The steel based, brown anodized scabbard is a real beauty! It is completely dent free and retains an excellent anodized finish as well as lots of factory lacquer! The solid nickel fittings look great. The ball has a bump to the bottom and all of the screws remain intact. The scabbard / crossguard fit is perfect and closes with a snap! The reverse of the lower crossguard fitting is Gau marked "Nrh" (Niederrhein). The brown hardwood grip looks good. It has the reverse upper has a hairline and the obverse upper has flaking and a hairline running north of the roundel. The beautifully detailed solid nickel eagle has a perfect fit. The roundel retains 95% of its enamel and also has a perfect fit. This piece also comes with a odd but original 1 piece hanger. hanger! Overall this is a great piece that shows some real history! A desired example among collectors!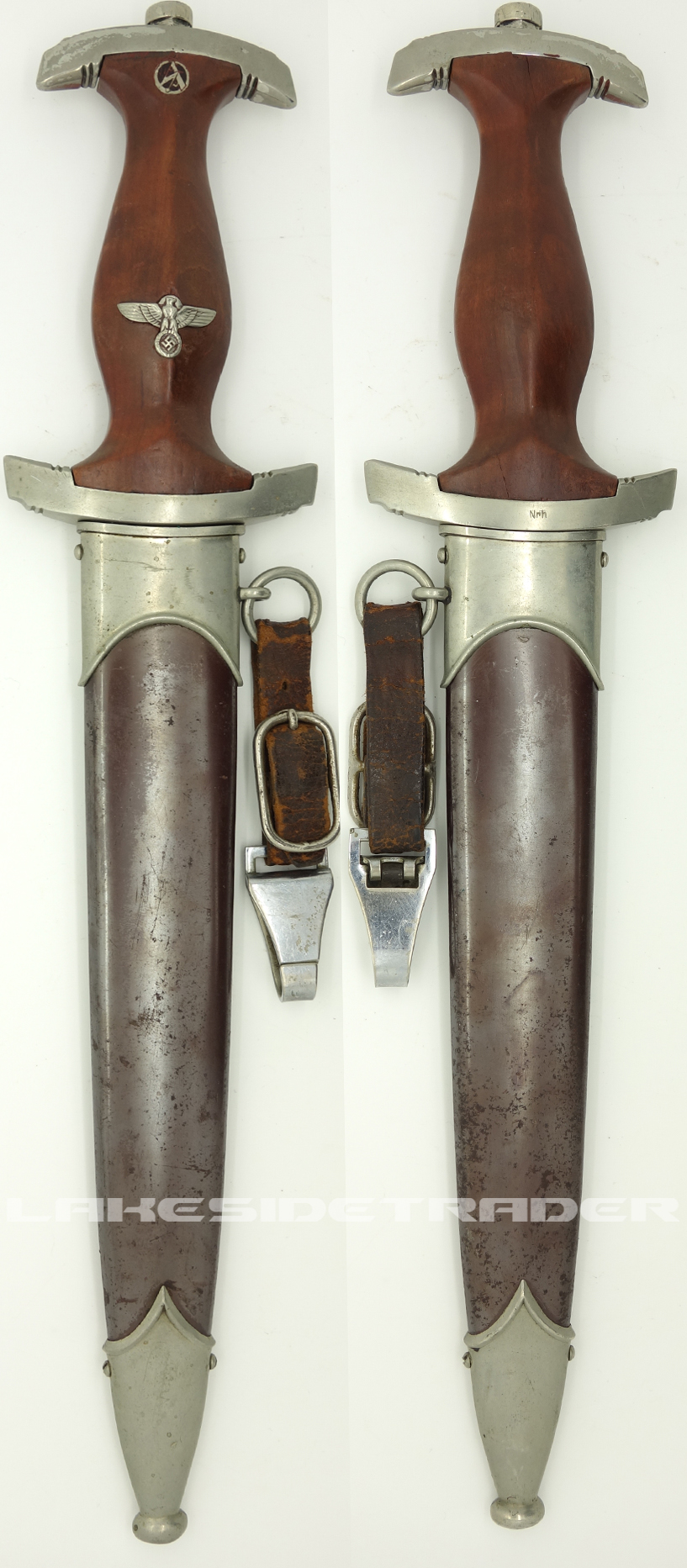 If you would like to purchase this item, please Create an Account, add it to Your Cart and Checkout.
We would recommend that you read our Policies page before making a purchase.