Early SA Dagger by Thomas Wielputz with a unique blade
A rare early model 1933 Sturmabteilung Dienstdolch byThomas Wielputz of Solingen. A rare maker mark on this one! This one rates 9 out of 10 for rarity on McSaar's SA rarity ratting! The blade on this one looks excellent! The acid etched "Alles für Deutschland" motto and "Thomas Wielputz Solingen-Hohscheid Gegr. 1880." maker mark are both beautifully executed! The crossgrain is no existent. Wait. What? What do you mean? This blade has been factory "swirled", that is a machining process there the blade has a pattern added mechanically with some rubs. It's really hard to pick up with my camera but it's there. I've seen a few blades with similar patterns but always thought it was from someone messing with it. After some discussion with an expert friend I'm convinced this was factory done. A bit of evidence, the etch is perfect indicating the pattern was added before the etch, there are runner marks over the pattern. Regardless, not convinced, go to the next listing. If you like new and interesting variants this might be for you! The tip comes to a perfect point and the fit remains nice and tight! this is some age and stain. This blade rates a solid Exc+. The dent-free scabbard is steel based and deep anodized finish. Really nice to see with 30%+ of the lacquer remaining. The solid nickel-silver scabbard fittings are in good shape again with some rubs and wee marks from use. The ball is not damaged. All four scabbard screws remain tightly intact. The scabbard / crossguard fit is near perfect and closes with a snap! The reverse of the lower crossguard is marked "Nm" (Nordmark). The light toned and grained hardwood grip looks good, the obverse upper right corner and the reverse same corner have what looks like a chip glued in. It has the normal pressure marks and a rub to the back. The solid nickel eagle retains beautiful details and has a perfect fit. The SA roundel has a perfect fit and retains 96%+ of its enamel. An interesting piece!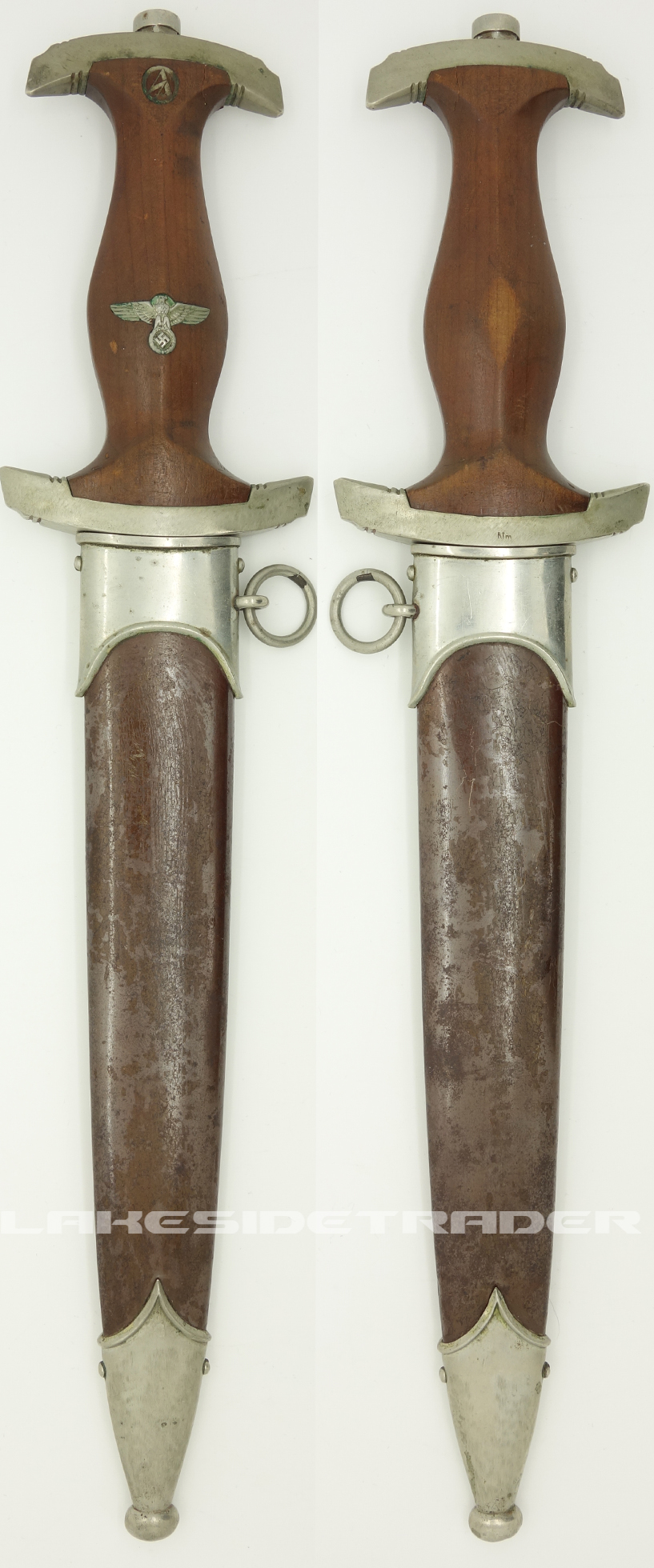 If you would like to purchase this item, please Create an Account, add it to Your Cart and Checkout.
We would recommend that you read our Policies page before making a purchase.