Type II Chained SS Dagger owned by an officer
A highly desired piece among the collecting community! The blade on this one looks great. The acid etched "Meine Ehre heißt Treue" motto is nicely executed and contrasts the blade quite well! The crossgrain is easily visible for hilt to tip as you shine it in the light. It has a perfect tip and continues to hold a nice and tight fit! There is no maker mark and this is exactly how they were issued from the factory. The blade rates an Exc+/Exc++. It shows the common surface scratches, along with spotting/age greying throughout and evidence it was cleaned. The steel based, black anodized scabbard body on this one looks excellent! It shows only minor marks from the chain and a small crease towards the lower fitting like it was caught in a door. You can only find it if you hold this just so in the sun. It continues to retain a nice a dark black finish! The plated scabbard fittings look great! The lower has a few bruises to the ball that you can find if you go looking from the bottom. There are some oxidation marks here as well I have not tried to clean. All 5 screws remain intact. The chain is the later Type II variation that is steel based and nickel silver plated. The chain links show wonderful detail to the sculls and SS runes with real nice burnish! It's really something when you can see each individual teeth to the skulls! The correct first upper link is clearly "SS" proof marked. The clip continues to work well. The scabbard to crossguard fit is perfect. The alloy based, nickel-silver plated crossguards are in nice shape! They show some spotting throughout yet retain 95%+ coverage. The black hardwood grip is near perfect and way better than most! There is a microscopic hairline running north from the runes button but that's it, no chips or flakes! Very hard to find on these! The eagle is the plated type that has lost it's plating and appears copper. We often see this. The SS roundel retains 95% of its enamel and has a perfect fit! Both have aged to a copper hue. This one also comes with a wonderful officer portepee that has never been off! If you look close you can see where the bullion has "stained" the grip. This is a great piece that I am sure you will be happy to have in your collection!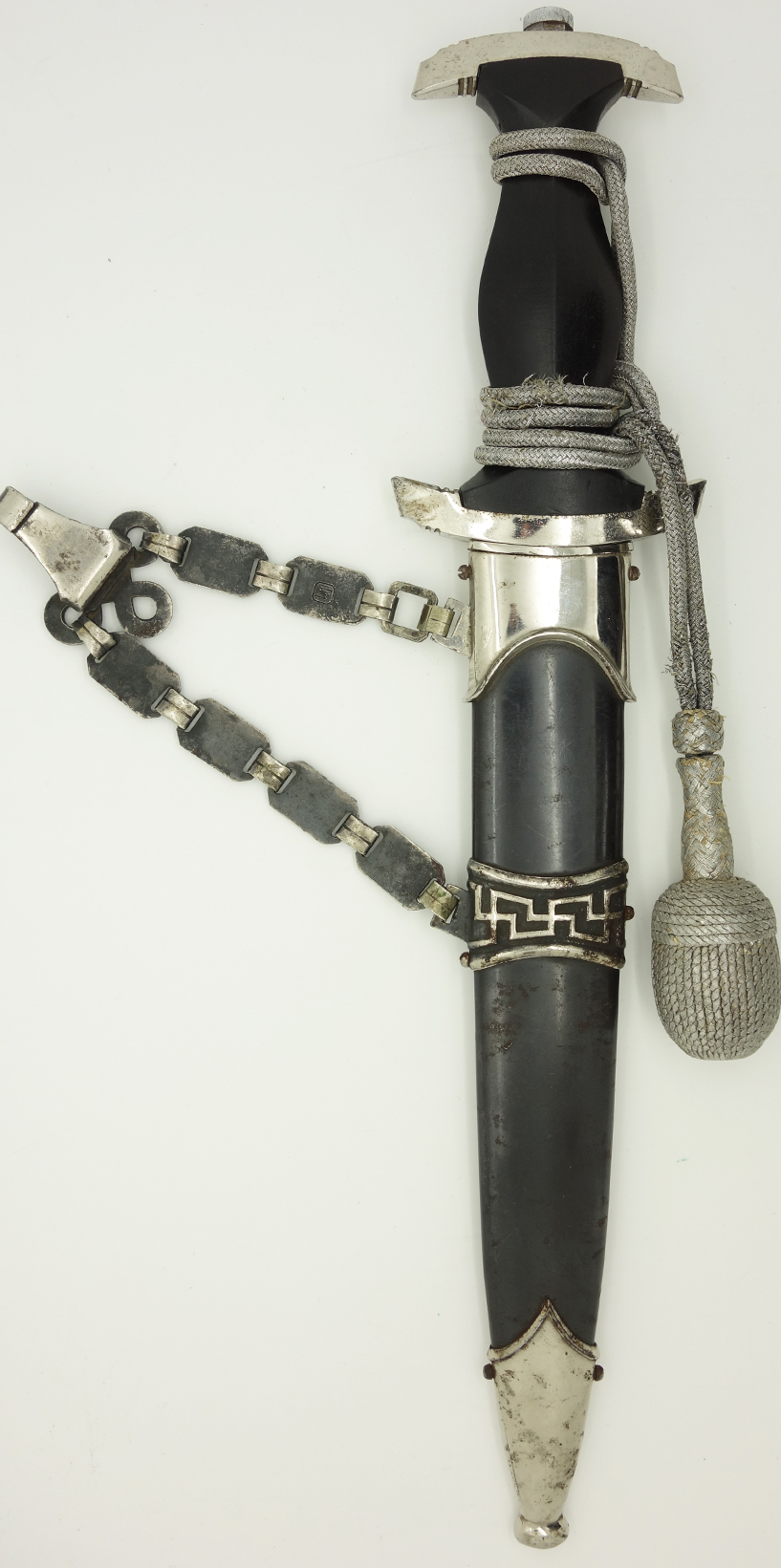 If you would like to purchase this item, please Create an Account, add it to Your Cart and Checkout.
We would recommend that you read our Policies page before making a purchase.