SS Officers Degen by Peter Daniel Krebs
Holding history in my hand! These were authorized for wear personally by Himmler and ownership required a certificate. Each one was, upon being awarded, duly noted in the SS Diensltersliste and became a part of the owners' service record along with his other awards and citations. This example sports the 2nd version Krebs maker mark. The 31" blade rates an Exc++. It has the correct grain running length wise with the odd scuff but no pitting no oxidation sharpening or other bad stuff. The maker mark is nicely executed. There is wear throughout but nice smooth surfaces. The buffer pad is original but loose and will slide down the blade. I was tented to apply a drop of animal glue but I leave that to you. The 32" SS proofed scabbard has a dent 8" south of the obverse scabbard ring. I'm tempted to put a dent puller on it but that, like most stuff, I leave to you. I prefer to leave these as I received them. The original thick black enamel is in good shape. There is normal scratches, spidering and age from wear and some wee bumps. The fittings are steel based with good plating. the lower has wear and minor oxidation. Both original screws remain to the upper fitting. The lower is the "slip-fit" type. The grip is composed of 13 ribbed sections being separated with its original wire wrap. The nickel SS runes button is correctly burnished to the backgrounds and set into place. The grip is chip and crack-free with normal period wear. There is paint loss and small rubs. Note the button placement, it's just after the fifth rib this is exactly where it should be! The ferrule has nice hand enhancing and is burnished to the backgrounds. All the fittings are steel based with the underside of the D-guard SS proofed again. This is a completely correct SS Officer degan you will be proud to own.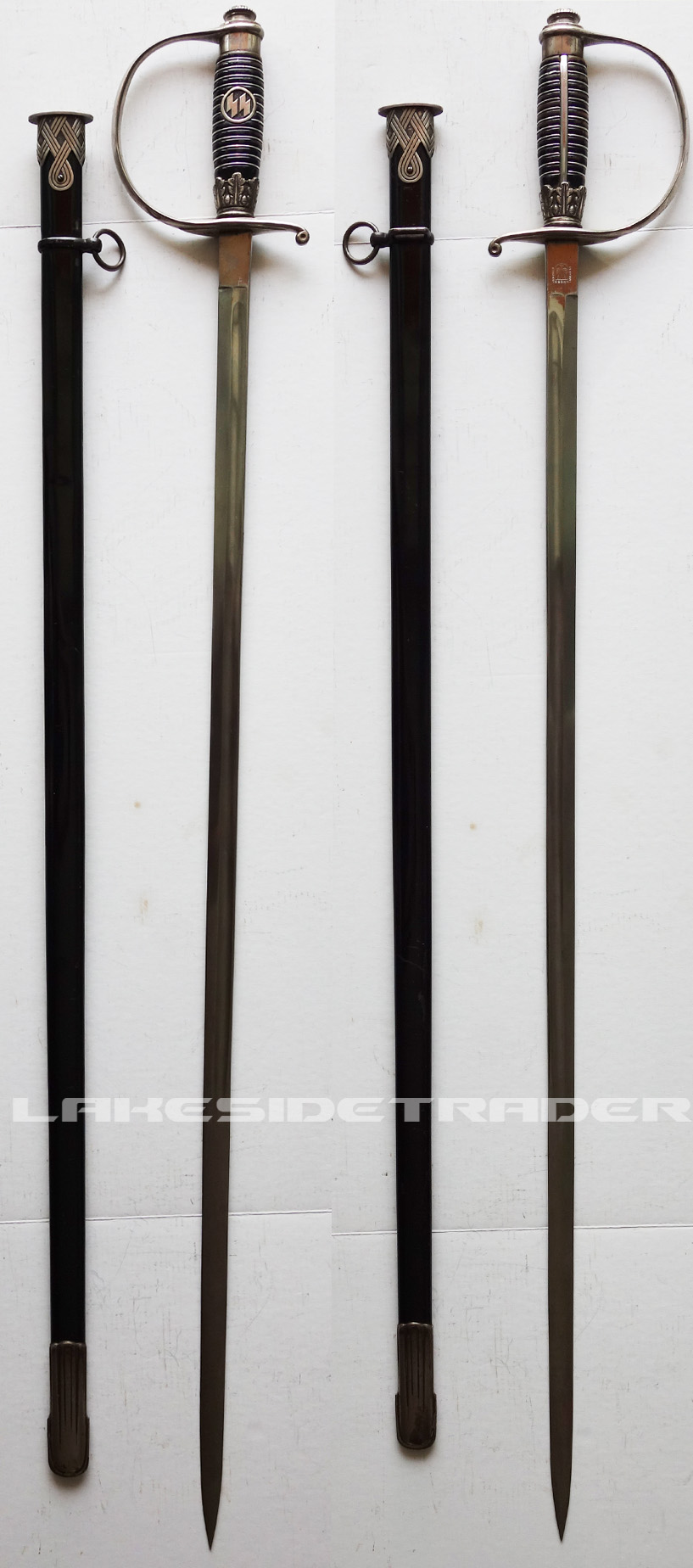 If you would like to purchase this item, please Create an Account, add it to Your Cart and Checkout.
We would recommend that you read our Policies page before making a purchase.