RLB 1st Model Leader Dagger by P. Weyersberg
Interesting dagger. The bright blade on this one is acid etched "Paul Weyersberg & Co. Solingen". The maker mark is dark with a bit of wear to the center where the runners rub. The blade has some age likely from old fingerprints. The tip comes to a sharp point and the fit is just perfect! The blade rates an Exc. The original dark blue pebbled buffer pad remains intact. The steel based, blue pebbled leather covered scabbard is in excellent condition. It has the odd scuff yet retains 100% coverage and continues to hold a nice seam. So yes I know that 1st model scabbards do not have a center fitting. So what's with this? Well, as we know well the change in the scabbard configuration from the 1st model to the 2nd model was to improve the poor hanger system of the 1st model. Even in the period it tended to break with just the one piece if leather supporting the whole dagger in wear. The 2 ring suspension system was much stronger. So perhaps this guy just changed the scabbard out after breaking the 1st model hanger. Who knows now, and yes I could just remove the center fitting, add a bit of shoe wax and no one would know but I try to leave this stuff the way I find it. The nickel plated scabbard fittings have nicely patinaed with time and match the hilt fittings quite nicely. All screws remain intact. The all nickel hilt remains in wonderful condition as well. The RLB eagle crossguard is a nice feature with nice looking detail! The guard has been hand-finished. I like Weyersberg birds the best of all the makers. The blue pebbled leather grip retains 100% coverage! Very nice! It has the properly pinned 1st model grip insignia, albeit a bit of to one side. The enamel is great. The enamel on these were very thin and it is extremely hard to find a perfect one.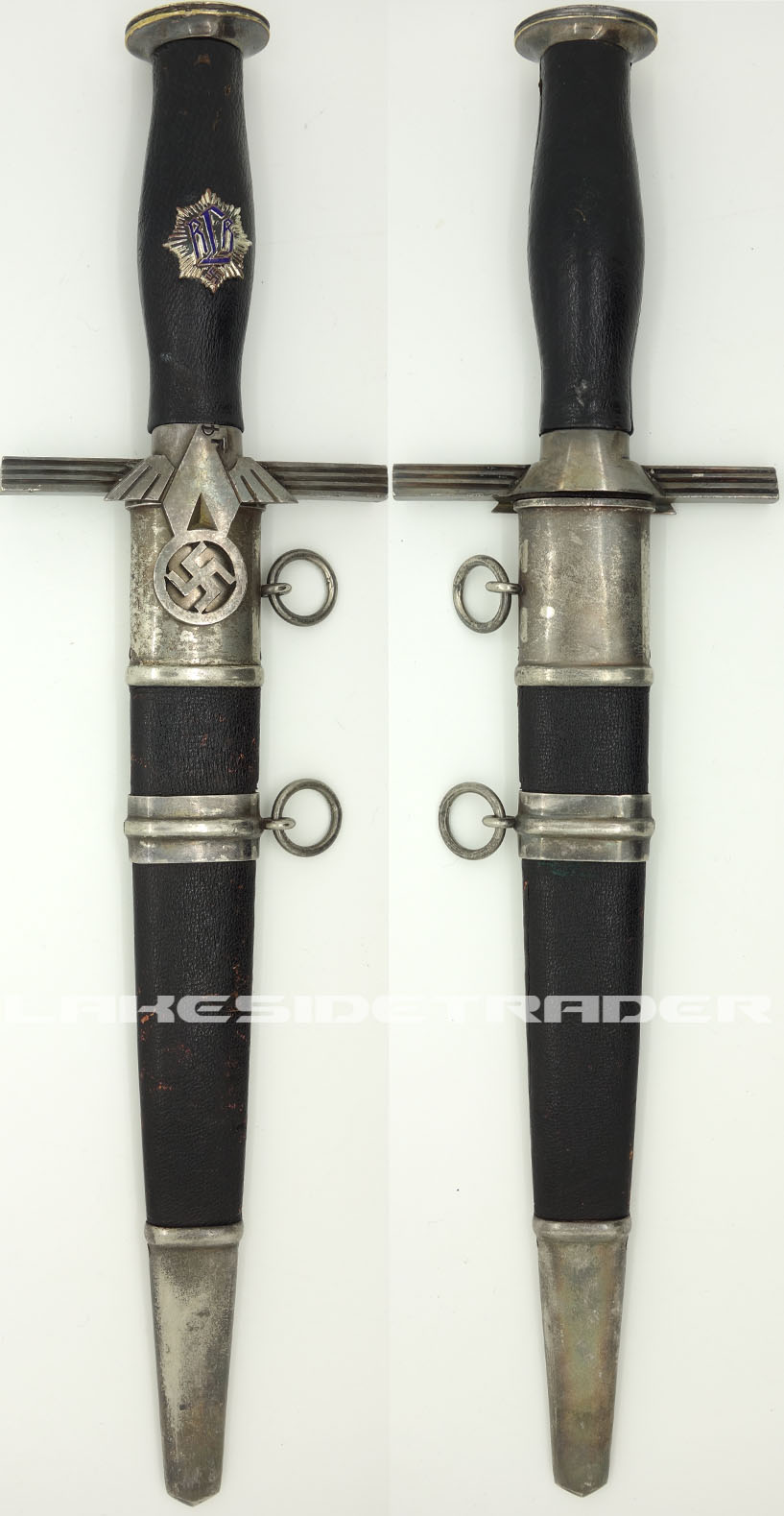 If you would like to purchase this item, please Create an Account, add it to Your Cart and Checkout.
We would recommend that you read our Policies page before making a purchase.