Early SS Officer's Degen w/ personalization and portepee
Please note this item is no longer available and you were redirected to our Archives.
This SS Officer's Degen looks to be of initial production and does not appear to have been cleaned since the war. The hilt mounts are solid nickel. The upper hilt has the "screw out" nut which we see on early examples. The pommel is a fine example, with no evidence of removal. It has toned completely black, indicating it's possibly silver plated. The "D" guard has a fine, even patination and ends in the usual teardrop quillon with decorative drilled divots on both sides. The lower ferrule is a fine example, decorated with six standing oak leaves and acorns. The oak leaves are nicely blackened and show hand enhancement. The ebony grip exhibits wear to surface but is undamaged remaining in fine condition. This grip is tightly wrapped with nickel wire, and the nickel cover plated remains on the reverse. The nickel runes button is an exceptionally fine example, nicely inset with no chips anywhere around it. The runes are in high relief and all the original factory burnishing is in the backgrounds. The underside of the hilt is proofed with the SS-Kulturzeichen stamp, which also appears on the scabbard throat. Wrapped in the proper proscribed tie about the lower portion of the hilt, is an original excellent condition SS portepee. It features aluminum bullion strapping having a textured center area and is decorated with two sets of twin black lines that run the length. The slide is of looped bullion, and the stem is slightly rounded on each side, complete with a set of SS runes within a circle. The lower ball is of bullion, having a lower stuffing insert that matches the strapping. The scabbard is straight throughout and retains the original paint rating at 95%. The lower mount is nickel plated and retains most of the original burnishing in the decorative lines. It is the type that is retained without screws. The upper mount is the standard "Wotan's Knot" type. Retaining most of the original burnishing. The mount is retained by a pair of dome head screws. The ca. 99cm blade is in the standard matte finish with a deep fuller on each side and is complete with white leather washer. The upper obverse features a hand applied two-line personalization"20.4.38 H.Z."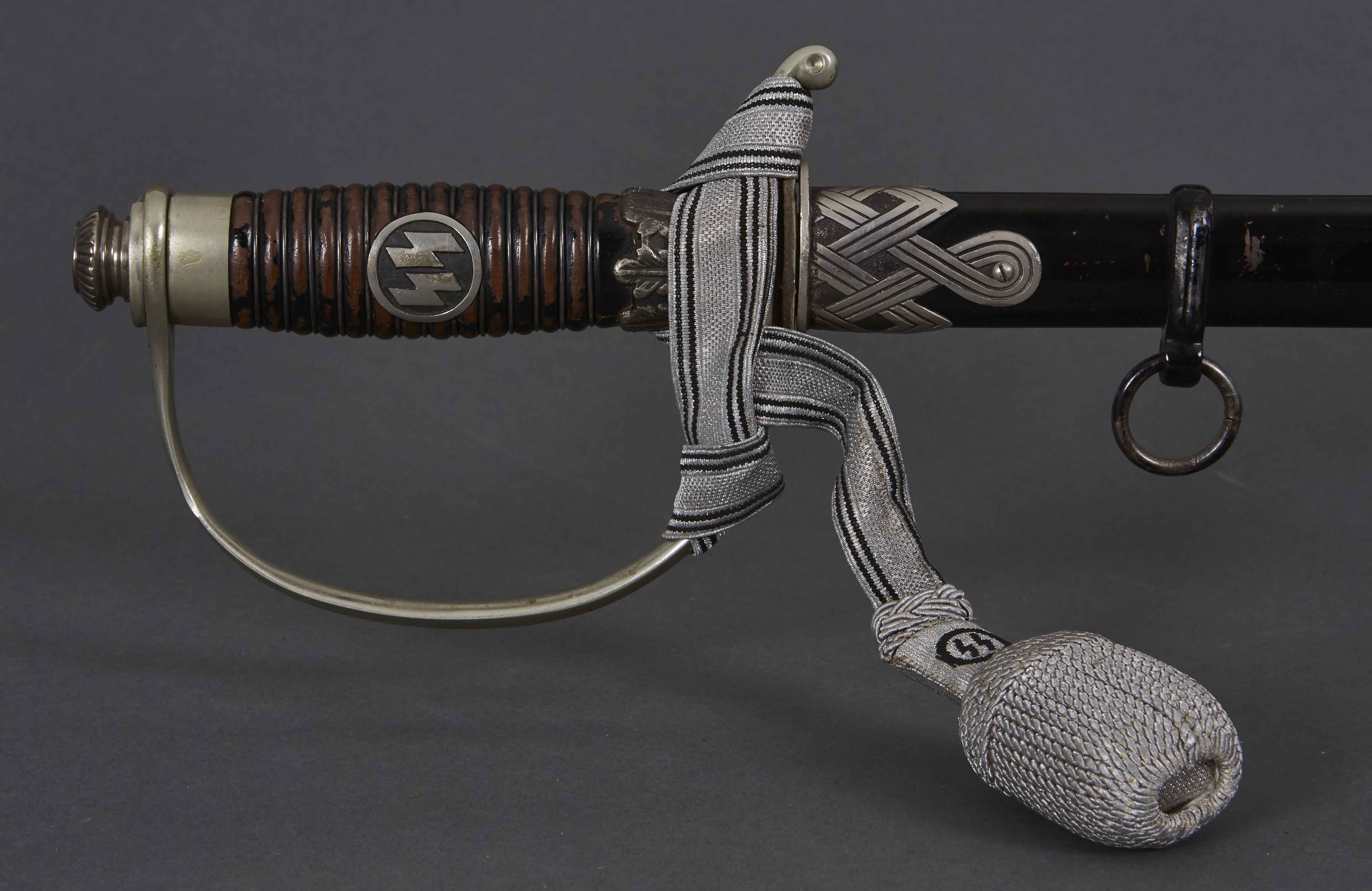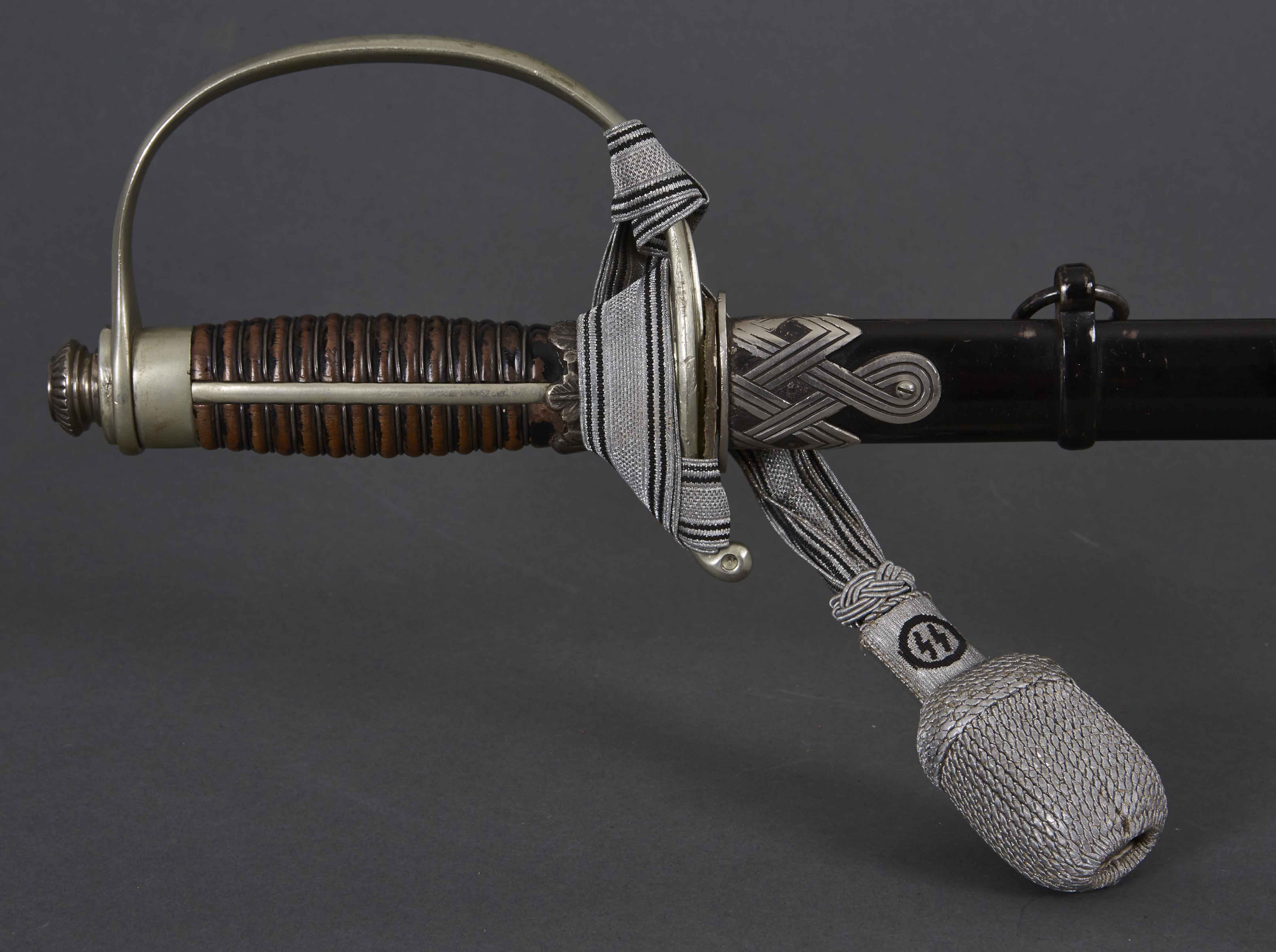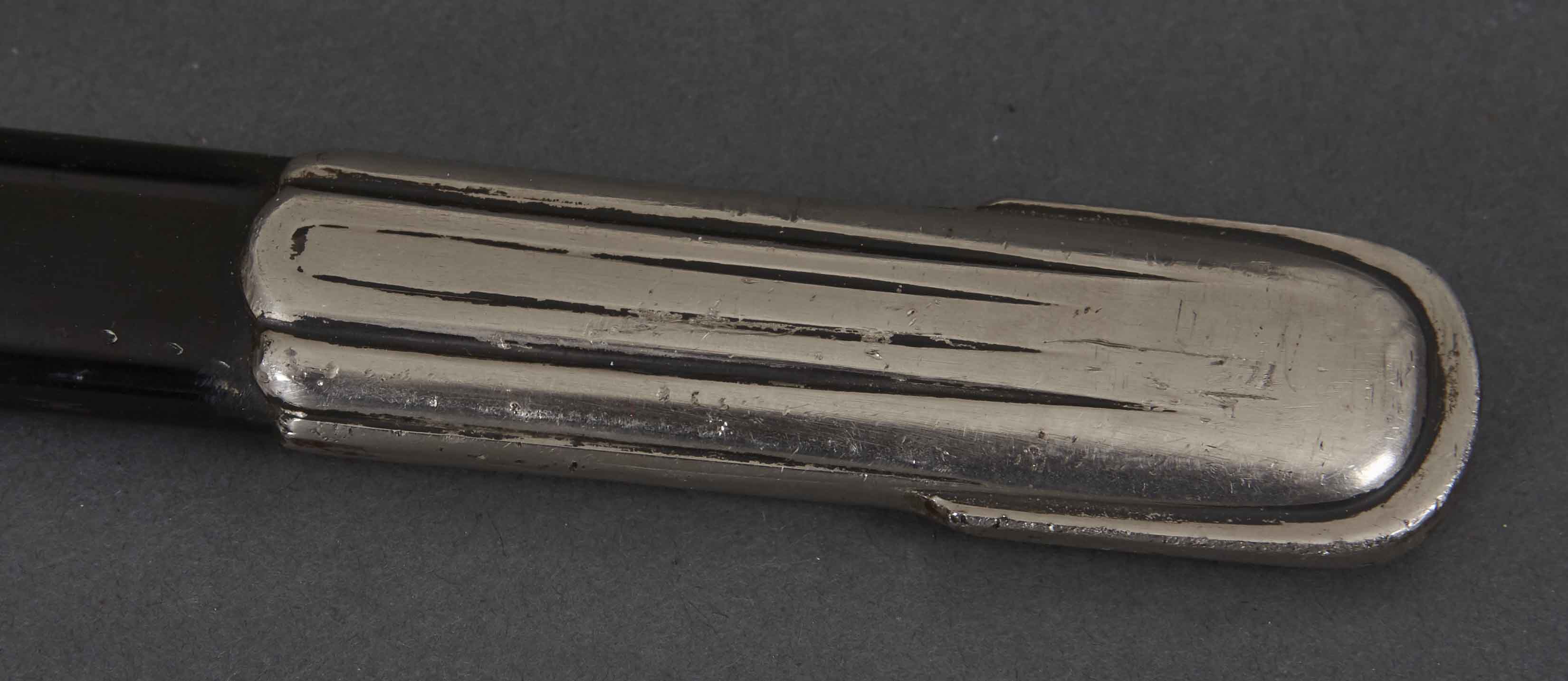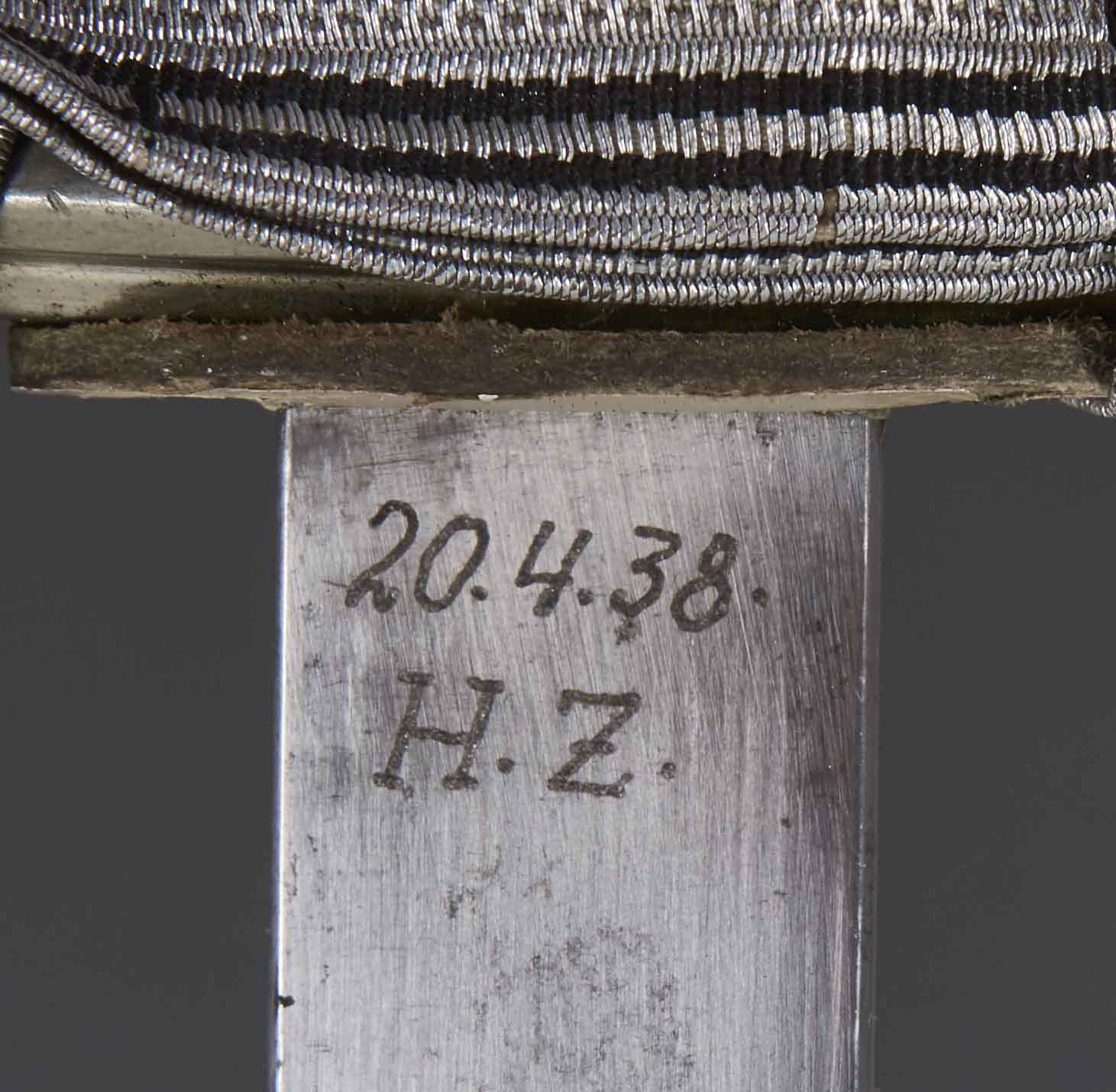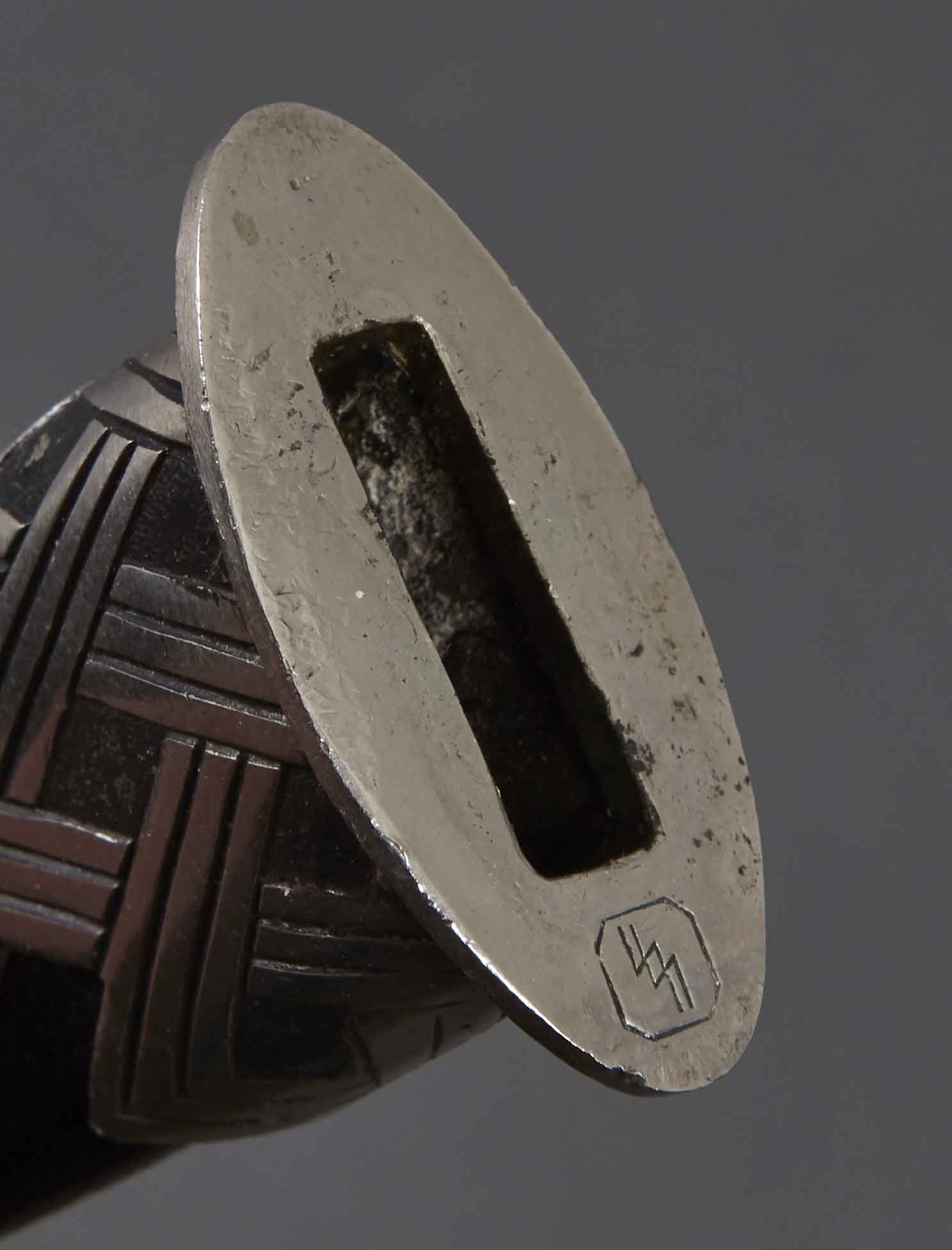 If you would like to purchase this item, please Create an Account, add it to Your Cart and Checkout.
We would recommend that you read our Policies page before making a purchase.