"Lazy Man's" Partial Rohm by Eickhorn
Please note this item is no longer available and you were redirected to our Archives.
A Model 1934 - Sturmabteilung Ehrendolch mit Widmung by Carl Eickhorn of Solingen. Ernst Rohm Honour Daggers were granted to members of the SS and SA who either had interrupted service since December 31st 1931 or those who transferred from the Hitler Youth prior to that time. After the Night of the Long Knives, Röhm was declared a "traitor" and removal of the inscription was mandated. To have the full inscription was against Hitler's command, making this dagger an incredibly rare and desirable piece among the collecting community…
The blade on this one remains in nice shape. The blade clean with just minute evidenc of a few old fingerprint stain. The removal of the blade inscription is a clean job. I always prefer these to the so often seen factory ground jobs. I just picture the guys coming home from their weekly SA meeting to a bratwurst and Beck's beer discussing the events of the Night_of_the_Long_Knives, and complaining about why they had to remove the name from the blade. The name is 100% removed with the rest of the motto: "In Cordial Friendship" remaining intact. It has a perfect fit and tip, and all of the motto's and maker mark are beautifully executed! This one rates an NM. The anodized scabbard has the finish worn off and shows heavy nicotine patina. It is dent-free. The solid nickel fittings are also lightly worn and perfectly match in patina. The screws remain unturned. The ball is perfect! The scabbard / crossguard fit looks great. The reverse of the lower fitting is bench marked "3". The oak hardwood grip looks great! The grip / crossguard fits are perfect! The beautifully detailed solid hi-necked nickel eagle also has a perfect fit. The roundel enamel is 100% intact with again patina. The lower fitting is stamped "Ns", for Gruppe Niedersachsen. I think the Vet's family cleaned this lower fitting before sending this to me. Why? Heaven knows but that's my story and I'm stickin' to it. Looking at the nut I do not think this has ever been apart! Overall a beautiful piece that tells a story!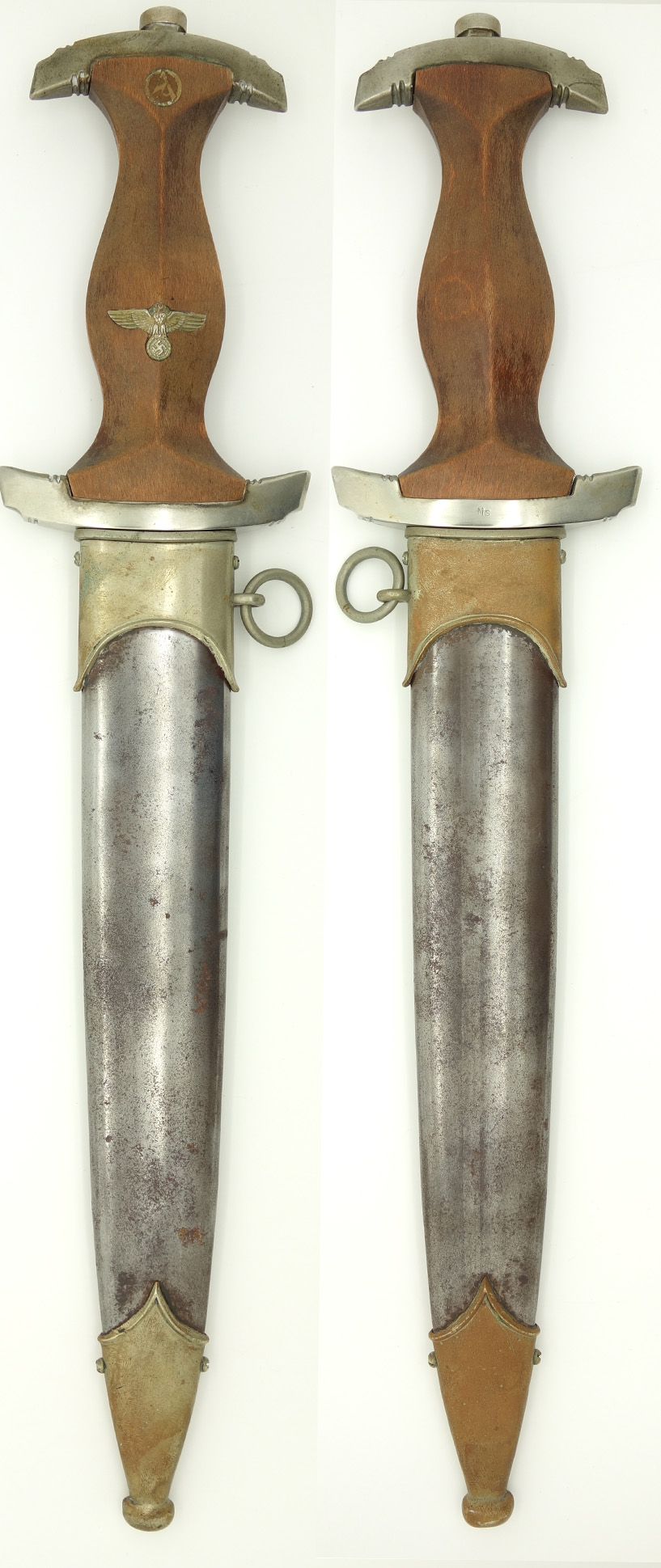 If you would like to purchase this item, please Create an Account, add it to Your Cart and Checkout.
We would recommend that you read our Policies page before making a purchase.