Prussian Infantry Reserve and Landwehr Pickelhaube
M1895 - Imperial Preußen Pickelhelm der Reserve und Landwehr Infanterie für Mannschaften. It is constructed out of a multi-piece blackened leather base with brass and steel fittings. To the front and center is a gilded brass Prussian Reserve and Landwehr Regiment issue state coat of arms (wappen), which features a filled-in crowned eagle clutching a scepter and crown in its talons, with the silver reserve cross to its chest that has the King's motto: "Mit Gott für Koenig und Vaterland" and "1813" date. The wappen is affixed with two loops that are attached to the interior with leather string pieces. The reverse shows a brass spine with top vent hole, that is fixed closed. The top brass based vented fixed enlisted spike and has the standard neck ring and is mounted to a round spike brass base and round steel black painted base. The base is secured with four brass round rivets that have flatwire prongs visible to the interior, which also secures a blackened round steel plate. The standard issue leather chinstrap (possible replacement) has two rectangular brass buckles and the mounts are attached to the brass lugs, which are to the center of the Prussian (black and white) kokarden and Reichs (red, white and black) kokarden. The exterior shows stitching around the entire circumference which holds the separately stitched on neck guard, the front visor (with brass trim) and liner. The interior features the standard issue black leather liner with the rounded perforated "tongues" and the leather string still intact. The interior is dated "1914" and the interior neck guard is chamber stamped: "B.A. XVI 1916" (Bekleidungs-Amt). It looks as though the spine has been pushed in leaving the reverse slightly misshapen. A nice-looking reserve pickelhaube.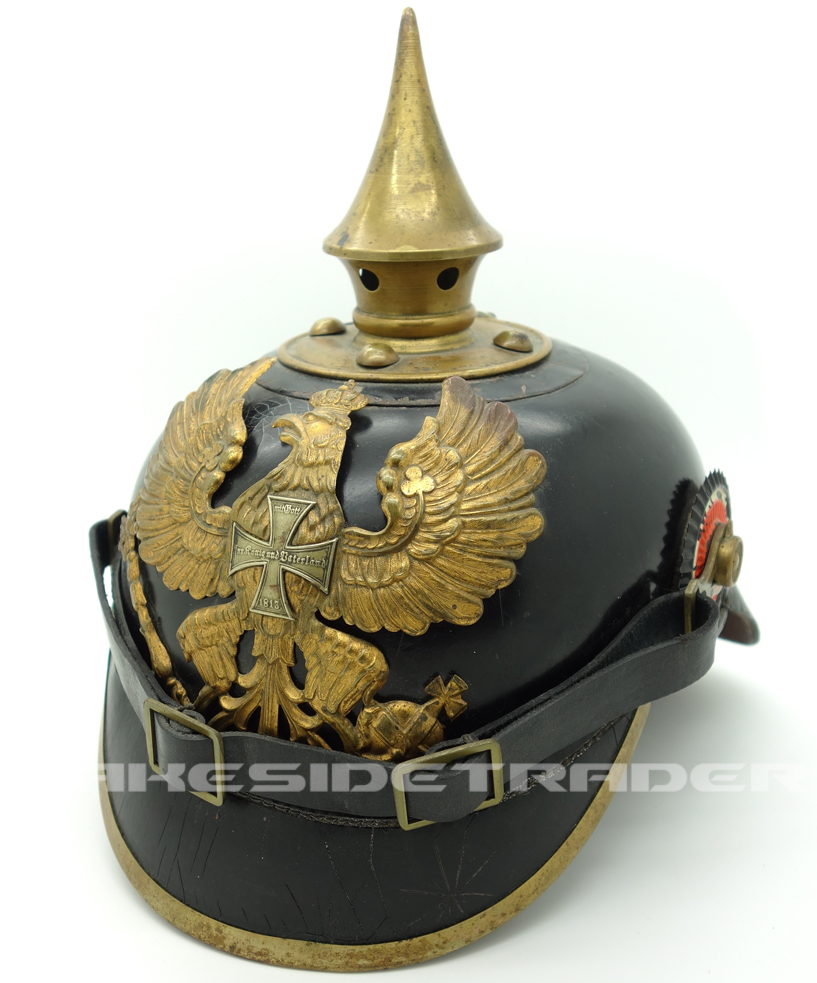 If you would like to purchase this item, please Create an Account, add it to Your Cart and Checkout.
We would recommend that you read our Policies page before making a purchase.