SS Himmler Honor Dagger by Carl Eickhorn
A Model 1934 - Schutzstaffel Ehrendolch mit Widmung by Carl Eickhorn of Solingen. These were presented to members of the SS who took part in "The Night of the Long Knives" and later to those who displayed unquestionable loyalty to H. Himmler. The prestigious Himmler blade on this one is another quality Carl Eickhorn construction. The acid etched; "Meine Ehere Heißt Treue" motto, "In Herzlicher Freundschaft, H. Himmler" inscription and smooth tail "Carl Eickhorn Solingen" maker mark are all dark, crisp and beautifully executed. They provide a wonderful contrast to the bright blade and will surely make for a wonderful display. The crossgrain is stunning and runs all the way from the perfectly pointed tip to the tightly fit hilt. The blade rates a solid Exc++/NM. It shows the common surface scratches/runner marks along with minor age grey/spotting throughout. The steel based black anodized scabbard is gorgeous. It has a wonderful dark finish and continues to retain half of its original factory lacquer. It's getting harder and harder to find that anymore. It continues to remain completely dent free. Both solid nickel scalloped scabbard fittings look excellent. The odd pressure mark, but I'm being anal. The ball has one wee pressure mark, yet retains a nice round profile. All four screws remain intact. The scabbard to crossguard fit is perfect. The solid nickel crossguards match the scabbard fittings very well. The crossguard is bench marked "0". The fittings all show faint scratches throughout, likely the previous owner "cleaned" it at some point. The black hardwood grip shows several chips, cracks and hits throughout. The solid nickel eagle has nice crisp detail. The SS runes retain 99% enamel and it has perfect fit. These are hot and I cannot keep them on the site.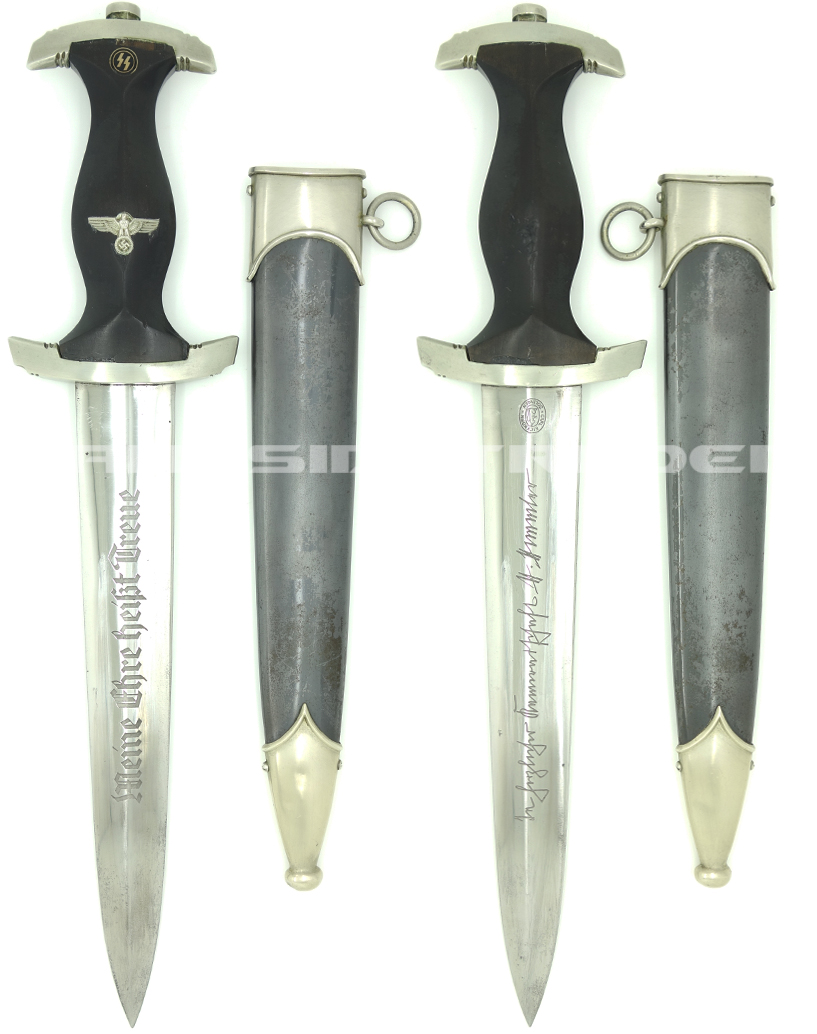 If you would like to purchase this item, please Create an Account, add it to Your Cart and Checkout.
We would recommend that you read our Policies page before making a purchase.