Serialized & Researched Herder SS
Please note this item is no longer available and you were redirected to our Archives.
Ok guys here is a very interesting dagger for someone who appreciates the history of these things! Completely textbook Herder, the blade has been cleaned yet still shows some age freckling. I say that and the etching remains all intact and the blade retains it's full size. The motto is correctly placed on the blade and reflects the specific attributes of Herder. To the reverse the maker mark is correctly placed. The etching on both sides all matches in both depth and color. Blade is Exc with age and pitting. The nickel-silver hilt fittings are all matching in color and patina. The lower is serialized 395. Guys this is the lowest serial # I've ever owned, and I think I owned a couple 4 digit examples but never a three digit. Think about this for a second, this guy was the 395th guy to join the SS, that crazy low~!~ Ok so who is this guy? I checked him out and his name is Thomas Frank. Ross was commissioned to to a complete dossier on him and I literally have like 4" of paper here. Apparently Thomas is listed in the SS-Dienstalterslistes for 10/1934, 7/1935, 12/1936, 12/1937, 12/1938. His NSDAP Membership File card is available. He has a large SS Officer File (120 pages) that includes his führerstammkarte, early stammkarte, fragebogen. lebenslauf, and a number of discipline docs. Apparently he was a naughty Nazi who was not well suited to following the rules. For the details you will have to read the original file and run it through transator. Regardless, this fits the profile. These early guys were not bureaucrats rather they were rebels! Ok, back to the description!! The lower crossguard is correctly district stamped "I". The grip is a typical slim Herder with hits, flakes and good size cracks. It's not going to fall apart or anything like that. The eagle is a correct nickel version, the right wing is ever so slightly lifted out and the runes have enamel loss. The dent-free black period repainted scabbard fits the dagger perfect well. The ball has a hit, really not too bad. The upper screws were missing so I just replaced them. Nope not in perfect condition but for those of you who like history this is a very early one to an officer. Just so I'm clear with this you are getting the $400 research packet, a 16"x 12" hard hinged wood carry case and the dagger.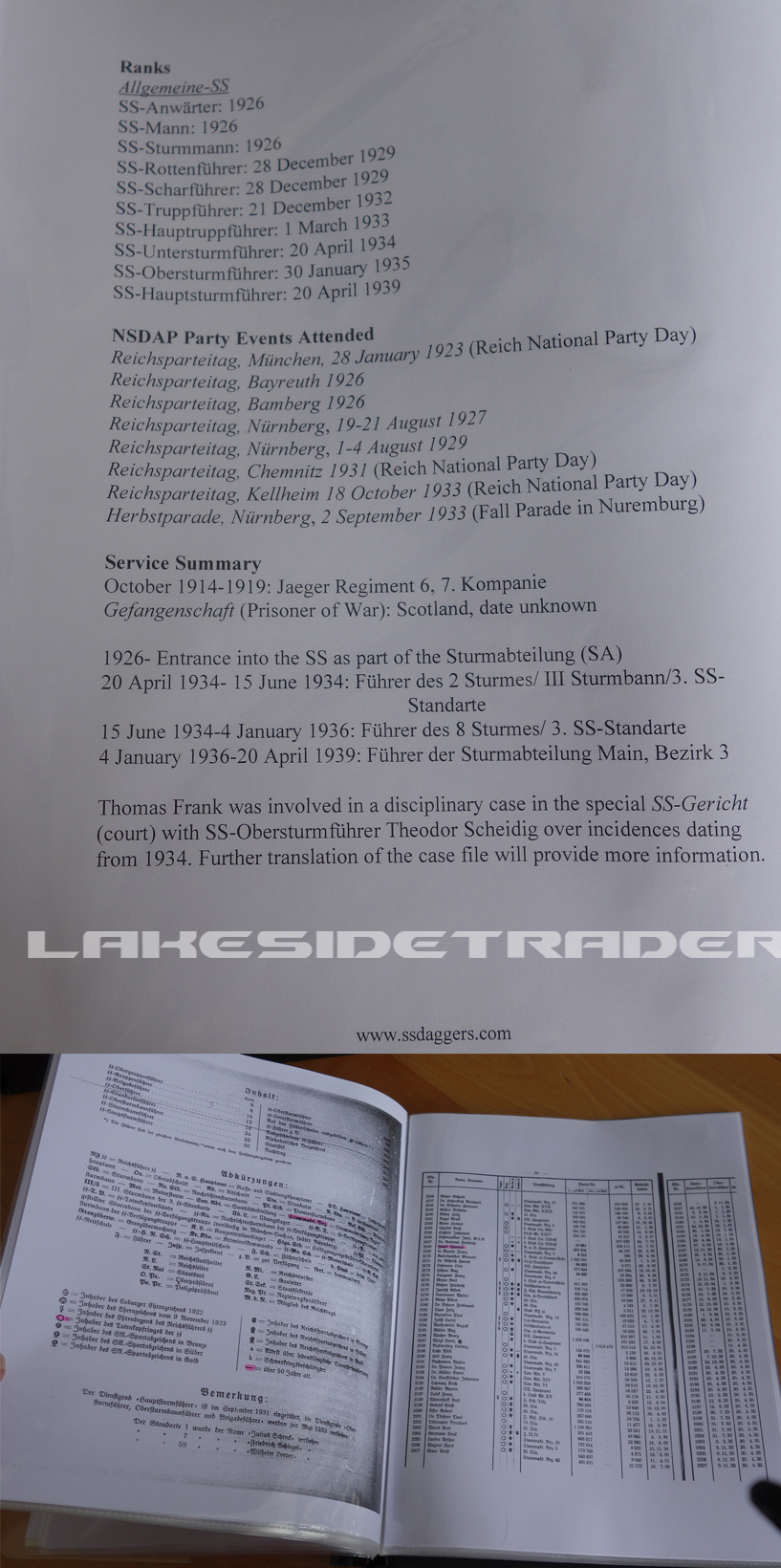 If you would like to purchase this item, please Create an Account, add it to Your Cart and Checkout.
We would recommend that you read our Policies page before making a purchase.